Refrigerated warehouses, Cold rooms
Refrigerated warehouses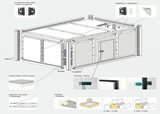 The company "Frost Service" offers ready-freezers and refrigerated warehouses, ovosche- and fruit, in conjunction with the premises of the expedition, technological corridors and lobbies, freezing tunnels and chambers of ripening bananas. Our specialists will calculate and will design for you an object of any size and complexity of your technical task for any climatic conditions.

What are refrigerated warehouses constructively? This warehouse building of the foundation, frame, walling, roofing and flooring. Stringent requirements for thermal insulation and sealing barriers and the need for warehouse automation refrigeration differs significantly from simple cold storage warehouses.

Cold stores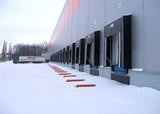 Cold rooms to your taste
Design and development of cold rooms display and storage of goods.
Installation of equipment for any unusual conditions of the object.
Mobility equipment or stationary use.
Design, color, overall performance on your taste.
Freezing cold rooms are a very convenient and practical form of refrigeration for cooling, freezing and storage of various food products and other things. Main features and advantages of the room is the type of construction.