Refrigeration equipment
REFRIGERATION EQUIPMENT IN BAKU from the Frost Service company consists from Refrigeration monoblocks, Refrigeration panel and Refrigeration units.
Refrigeration monoblocks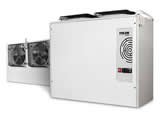 "Monoblock" designed to cool the internal volume of the refrigerating chamber and is completely ready to use refrigeration unit, filled with Freon, tested in production and scheduled for operation at an ambient temperature of the surrounding air from +12 to +40 °C.

Candy bar is a ready to use cooling unit for modular cold rooms of small and medium volume (30-40 m3), designed for indoor use at ambient temperatures from 0 to 32 degrees Celsius. Candy bar is inserted into specially cut a hole in the wall of the room (hole size is indicated in the data sheet).
Моноблок представляет собой готовый к применению холодильный агрегат для модульной холодильной камеры малого и среднего объёма (до 30-40 м3), предназначенный для работы в помещении при температуре окружающей среды от 0 до 32 градусов по Цельсию. Моноблок вставляется в специально вырезанное отверстие в стене камеры (размер отверстия указан в паспорте изделия).
Refrigeration panel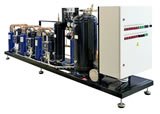 Refrigeration panel designed to create artificial cold in centralized cooling systems. For a correct choice of the chiller it is necessary to calculate the heat balance on the basis of raw data provided by the customer. Refrigeration panel are mounted on a rigid frame and operating in parallel (with common suction manifold and discharge) of the compressor (2 to 6 compressors), and automatic devices, control and protection.
Refrigeration units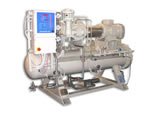 We offer refrigeration units from manufacturers that are leaders in the world market production of refrigeration equipment. The main difference is the type of refrigeration unit installation and technical characteristics. The choice of a specific model depends on the wishes of the customer and working conditions of the camera.
For its intended purpose, there are various types of refrigeration equipment, but it is the most widely used industrial refrigeration units, which are designed for installation in large freezers, warehouses, cold storage and other isolated areas whose main function is to store food or other products at a certain temperature mode. However, this is not the only purpose of these devices.